Food & Nutrition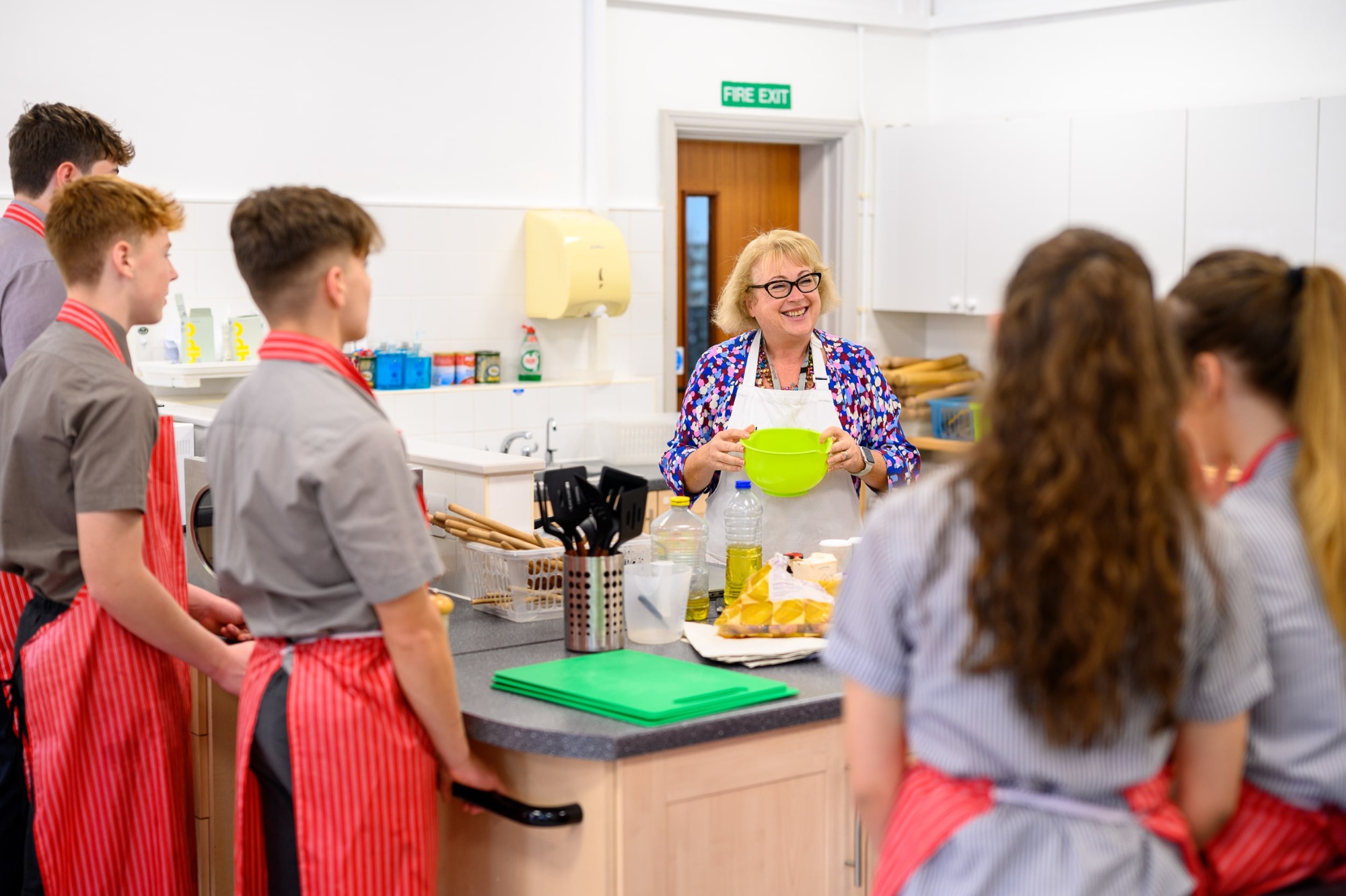 Our teaching style in the Food & Nutrition Department is hands-on and work hard to involve every student. The Department is driven by experienced and enthusiastic staff who are simply passionate about food! Every effort is made to include up-to-date recipes and culinary techniques to keep students abreast of the latest developments. The curriculum is diverse, innovative and promotes creativity and excellent execution of a wide range of skills and techniques.
Our facilities are purpose-built and comprise a modern practical room with pantry, demonstration unit and whiteboard, and a second classroom for theory lessons. The Department boasts its own library with regular additions in line with the latest publications and culinary thinking.
Within the course, we learn how to make recipes that are beneficial for life at home and in the future. As well as cooking, we learn health and safety skills within the kitchen.
Courses offered:
GCSE Food Preparation and Nutrition
At GCSE we offer OCR Food Preparation and Nutrition. This new course is an excellent choice for those students who have a real interest in cooking food, understanding the properties of food ingredients and the related areas of health and nutrition. Students are encouraged to work with different ingredients and experience a range of cooking methods. All students gain their Food Hygiene Certificate as part of the course.
In studying Food Preparation and Nutrition, students will:
• Learn about different foods, ingredients, processes and techniques
• Develop practical cooking skills
• Understand about balanced diets and healthy eating
• Plan, prepare and cook a range of dishes based on skill development
• Develop an understanding the catering industry
• Know how to plan and cost a meal
• Produce dishes of high quality with an emphasis on presentation

Practical sessions will help pupils develop some essential skills which will be useful in other subjects and their future lives. These include organisation skills, team working skills and communication skills.
Enrichment
Cookery is always a popular choice for the skills requirement of the DofE Award. Students get a sense of achievement from cooking great recipes, as well as building skills that will stay with them for life. We offer clubs suitable for those taking part in the Bronze, Silver or Gold Award.
Each year we hold the inter-House "Lingfield Bake Off" competition which sees students drawn from every year in the School competing for the title, along with a 'staff competition'.
Mrs Penny James
Subject Leader - Food & Nutrition