Music
The Music Department is a hive of activity at all times of the school day with students taking part in ensembles and groups. There is something for everyone, from jazz, rock and classical to musical theatre and heavy metal. Students of all ages and every ability can join in and enjoy making music.
Instrumental Lessons
Playing an instrument can help students in all areas of their learning. Research has shown that the reading of rhythms and notes helps with students' mathematical skills as well as being a vehicle through which they can express themselves.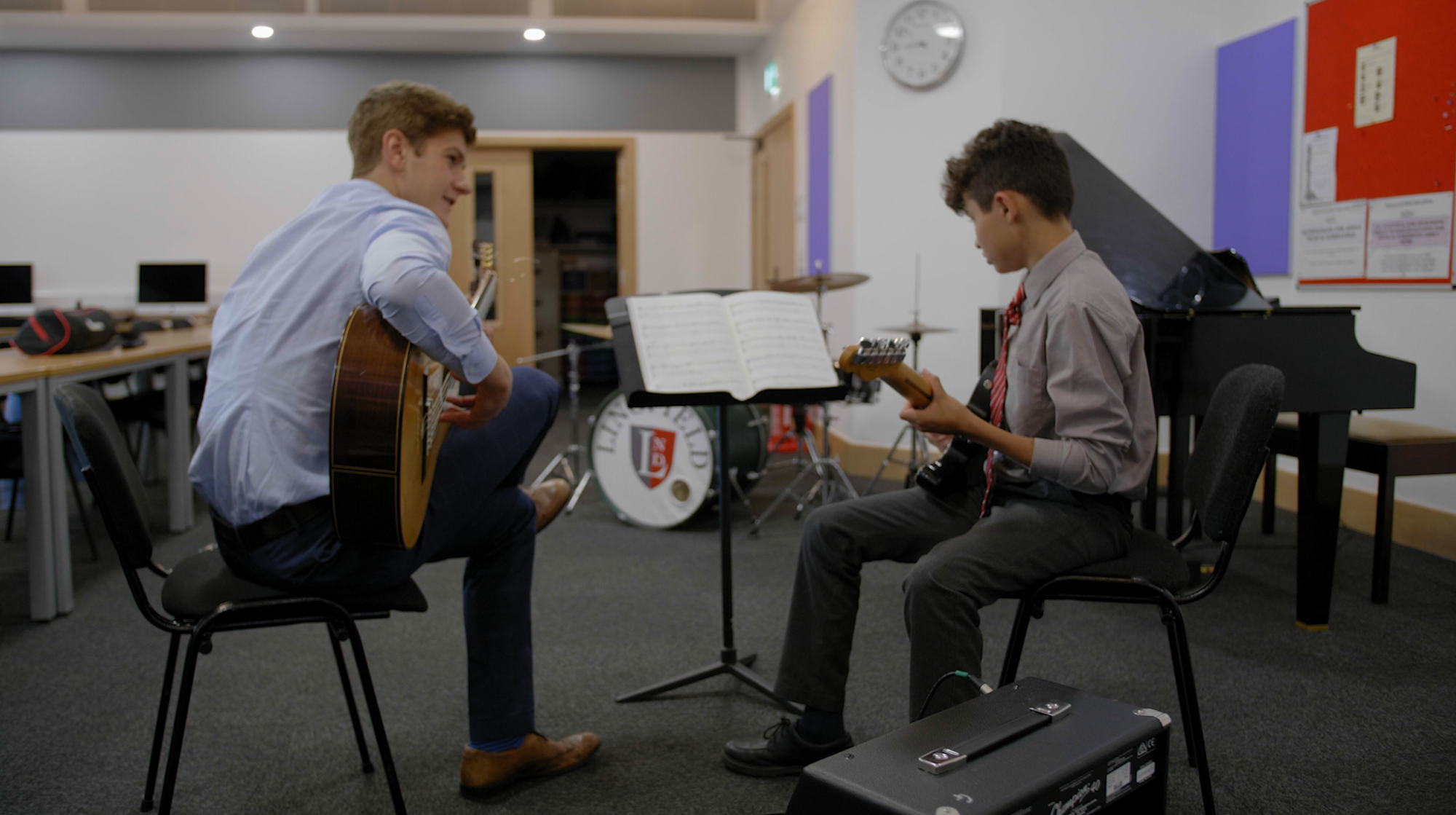 The Music Department offers a range of opportunities for one-to-one instrumental lessons. All our instrumental teachers are experts in their fields and offer pupils the chance to excel in their chosen instrument. As a centre for ABRSM, Trinity and London College of Music, students are also able to take their Grade exams on-site.
To book a lesson or to find out more information please contact our Music Administrator
Lessons are currently offered in the following instruments:
Strings :- violin, viola, cello, double bass, harp, acoustic guitar, electric guitar, bass guitar
Woodwind :- flute, oboe, clarinet, bass clarinet, alto saxophone, tenor saxophone, baritone saxophone, bassoon.
Brass :- trumpet, french horn, trombone, euphonium, tenor horn
Percussion :- drum Kit, orchestral percussion
Voice :- classical singing, music theatre singing, pop singing
Theory :- ABRSM, grade preparation
Keyboard :- piano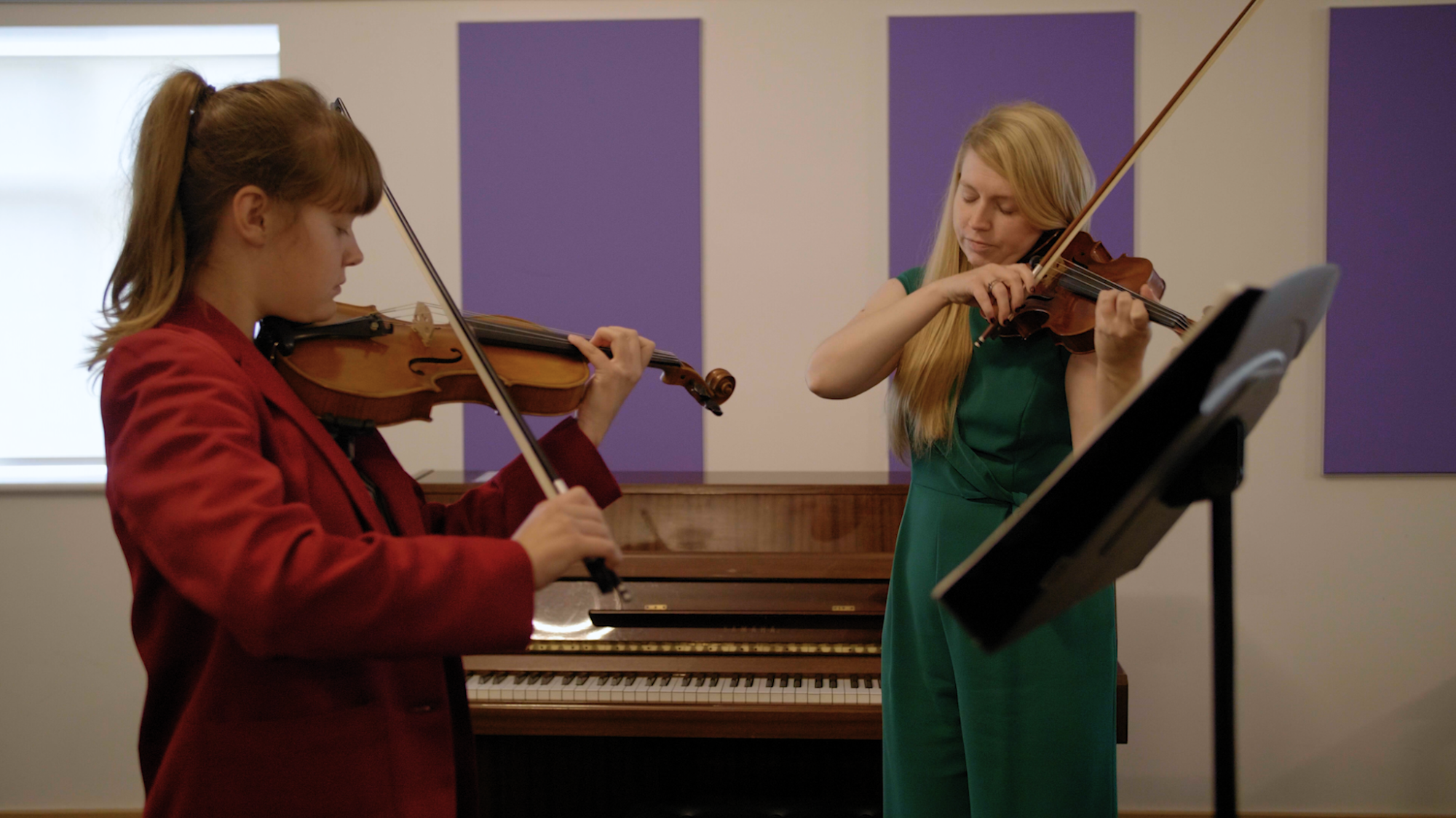 Performance Opportunities
There are regular opportunities for students to perform throughout the school year. Concerts and recitals take place within both the smaller setting of the Department and on the large stage in our auditorium.
The Christmas and Spring Concerts, along with the annual Rock Night, are the main focus for the bigger ensemble groups and bands. These attract a large audience and provide a supportive but special opportunity for students to perform as soloists and duos.
Forthcoming music performances are searchable on our Calendar.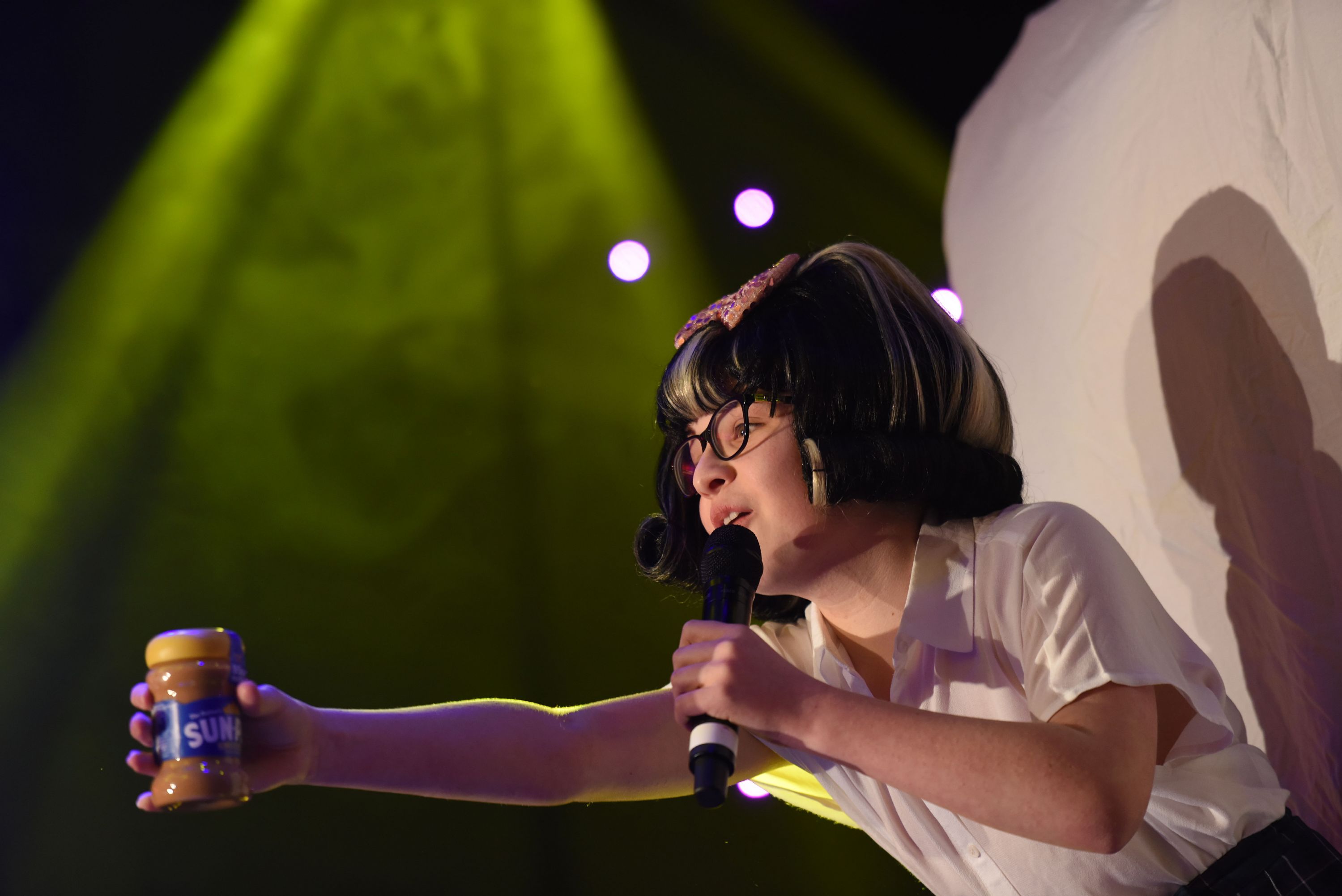 Music Ensembles
The Brass Ensemble is open to students of all abilities. This chamber-sized brass group performs a fun repertoire of modern arrangements from contemporary pop medleys to Latin-inspired pieces.
Chamber Choir is the elite choir in the School for advanced singers and is open to all pupils via an audition process with the Director of Music. The choir sings a mixed repertoire of well-known traditional pieces alongside folk melodies and lyrical Rutter classics at Christmas. The choir performs regularly at all school concerts and recitals as well as embarking upon foreign tours, which have seen them perform in numerous churches in Belgium and the Rhineland, Germany.
Guitar Ensemble can be heard rehearsing from the opposite side of the playing fields! The group is open to all pupils who love playing electric and bass guitar. They perform group numbers of a rock/heavy metal/funk style and hone both their improvisation skills through sections created for soloing opportunities and their ensemble and arrangement skills. Their performance at Rock and Jazz Night is the highlight of the year!
Harmonise is a choir open to all pupils who love singing. The group enjoys performing a repertoire of songs from West End musicals, Disney and well-known pop tracks. No audition necessary.
The Lingfield College Jazz Band is a traditional 1940s swing band that covers tracks by artists such as Duke Ellington, Glenn Miller, Herbie Hancock and the Rat Pack classics. The band performs at both school and community events of all sizes and has completed several European tours to countries such as Germany and Belgium in recent years.
The String Ensemble is a wonderful opportunity for string players of all abilities and year groups to play both a classical and modern repertoire. The group seeks to hone ensemble skills in a smaller, chamber-style environment. They play a varied catalogue and seek to encourage the talents of all budding string players.
The String Quartet is a chamber ensemble of the elite string players in the School. It gives pupils who play the violin, viola or cello experience with small ensemble playing in a friendly, supportive environment. This both enhances their repertoire and develops their skills in listening to others. They play a standard quartet classical repertoire and perform regularly at school concerts as well as large-scale school functions.
The Symphony Orchestra is the elite and flagship orchestra in the school for the more advanced musicians of Grade 4/5 upwards. The orchestra rehearses weekly and performs a wide repertoire of classical works such as Beethoven's 2nd Symphony, Dvorak's 4th Symphony, Overture from Mozart's 'Marriage of Figaro' and Tchaikovsky's 'Sleeping Beauty' in addition to exciting medley works from film soundtracks such as 'Pirates of the Caribbean' and 'Gladiator.
The Training Orchestra is open to all students without audition and is the perfect place for musicians of Grade 1-4 standard to hone their ensemble and orchestral skills. Weekly rehearsals take place after school and the orchestra plays a variety of fun and recognisable pieces from film scores and pop songs.
Ukulele Band is a hugely popular ensemble at Lingfield and a fantastic opportunity for all students who enjoy playing the ukulele. The group performs a mixed repertoire of upbeat pop standards and crowd pleasers! Pupils of all ages and abilities are welcome, and fun, hilarity and enthusiasm are guaranteed!
The Woodwind Ensemble is a smaller, chamber-style ensemble, encompassing pupils of all standards on flute, oboe, clarinet, saxophone and bassoon. The ensemble performs regularly at school concerts and includes a repertoire of both classical and modern contemporary music
European Music Tours
A highlight for Lingfield musicians, our European Music tours have taken our Jazz Band and Chamber Choir tour to Belgium and Germany.
Music Scholarships
Music holds a very special place in the academic and co-curricular life of the school. Music Scholarships are awarded for musical potential, ability and corresponding examination certificates. An enthusiasm for Music, a love of performing and a willingness to participate in school musical life is essential.
Music Galleries
Jazz and Rock Night 2023
Spring Concert, May 2023
Christmas Concert, December 2022