Eco-Council
In November 2022 Lingfield Prep Eco Council celebrated achieving Eco-Schools status with Distinction and raised the Green Flag. We are the only Surrey School to have been awarded Distinction, and this is a testament to the hard work our Eco Council have put in across the 10 Eco-Schools topics.
We were particularly praised for our Springwatch films and for all the collaborative events we held at the school to raise awareness of waste, increasing biodiversity, energy consumption and working with other organisations like Fairtrade.
Eco-Schools empowers pupils, raises environmental awareness, improves the school environment and also creates financial savings for schools. The Eco-Schools Programme is pupil-led, involving hands-on learning that gets the whole school and the wider community involved in exciting environmental projects.

Eco-Schools
Eco Initiatives
Fairtrade Fortnight
Every year during Fairtrade Fortnight, Prep pupils enjoy delicious bakes at our Fairtrade café, with all proceeds going towards supporting fair wages and fair working conditions for farmers around the world.
Recycling
Our team of School Eco-Councillors made boxes for their classrooms for collecting board pens and glue sticks to recycle. Billions of these items go to landfill each year and, as they are made mainly of plastic, they will not biodegrade.
Recycling tricky items
The Eco-Council have set up a recycling point for tricky items near the Jockey's car park for objects that can't easily be recycled at home such as crisp packets and cat food pouches. Accepted items are listed on the boxes themselves. Items which can normally be recycled at home, such as plastic bottles and cardboard, are not accepted in these boxes.
Apple Juice Making
Every Autumn, volunteers from across the School community take part in apple picking to make juice that can be purchased throughout the School. In 2020 the team diversified into plum jam as well. Any money raised will go towards environmental projects.
Annual Apple Picking at Prep School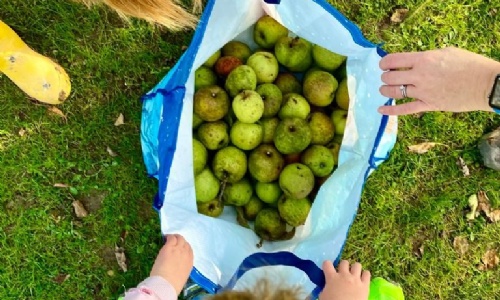 Each year, staff and pupils work to produce the juice from a variety of apple trees, which is then pressed and bottled at Ringden farm in Ticehurst, with funds going towards the school Eco-Council. enter an introduction for your news story here.
Switch-off Fortnight
During November, the School takes part in Switch-Off Fortnight, during which time the children learn about the importance of saving energy. Our Eco-Councillors are Energy Champions and are able to assess how energy efficient each class is.
Eco Tips
Consider making and using eco-friendly cleaning ingredients for your big Spring Clean. You will find lots of tips on the following websites:
Adopting some of the old-fashioned tips, like using bicarbonate of soda instead of buying harsh chemical-based cleaners can be a cheaper and more earth-friendly solution. Being green in the garden also makes a massive difference to our wild plants and animals. Next time you think about putting slug pellets down, think about who else might be eating either the pellets or a slug that is contaminated. Hedgehogs love a tasty slug dinner, so they are particularly at risk.
---
There is something simple you could do that would make a massive collective impact: stop eating meat just one day per week. A lot of people choose to do this on Mondays as 'Meat free Monday'. You will find lots of links on the website below if you would like to give this a try. We always have a vegetarian option at school too, but you could just choose to be meat-free in the evenings. There is even an 'impact calculator' to enable you to calculate what a difference your dietary change could make.