Projects Abroad - Volunteering in Tanzania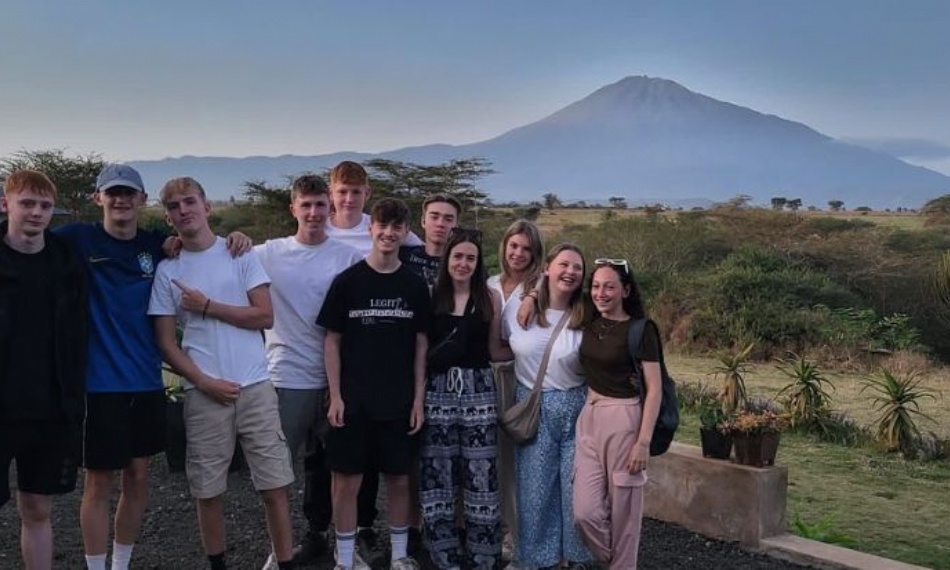 Year 12 treasure memories of unique volunteering experience at a Masai school
In July 2023, Miss Cooper and Mr Gonachon accompanied eleven students on a two-week volunteering trip to Kilimanjaro to work in a Maasai School where they would be teaching, building and gardening. This is the fourth year the trip has taken place and the team had spent several months fundraising as much as possible by organising a race night, raffle and also individual fundraising.
Two students Mollie and Annie tell us more about this amazing experience:
"Volunteering in Tanzania was an eye-opening experience that I will always remember.
The Maasai school was set up in 2013 by Projects Abroad to provide education for the local community, we were tasked with teaching basic English, Maths and Life Skills. We also set up a garden so they could grow their own crops and built a wall surrounding the school. It was hard work but we made great progress and learnt lots of new skills. Through visiting local Maasai Bomas we experience their culture, traditions and way of life. Several members of the same family would sleep in a small hut whilst their diet consisted mainly of goat. Daily activities included herding the goats and cattle and collecting water from watering holes, so different from our lives. Local dance, traditional cooking, and crafting were just some of the fantastic activities we participated in, and of course we could not travel to Tanzania without going on a safari to the Tarangire National Park. What an experience!
The positive impact we had was clear to see, as we arrived each day the smiles on the children's faces were priceless, and our goodbyes were tearful. Our memories of this amazing experience will last a lifetime."
Projects Abroad are one of the UK's leading volunteer travel organisations, specialising in educational trips and they give young people in the UK an unparalleled opportunity to experience a new culture and dedicate their time to work for truly worthwhile causes. Projects Abroad partner schools in Tanzania provide an education for children from underprivileged backgrounds.