Meet our Year 9 Drama Scholars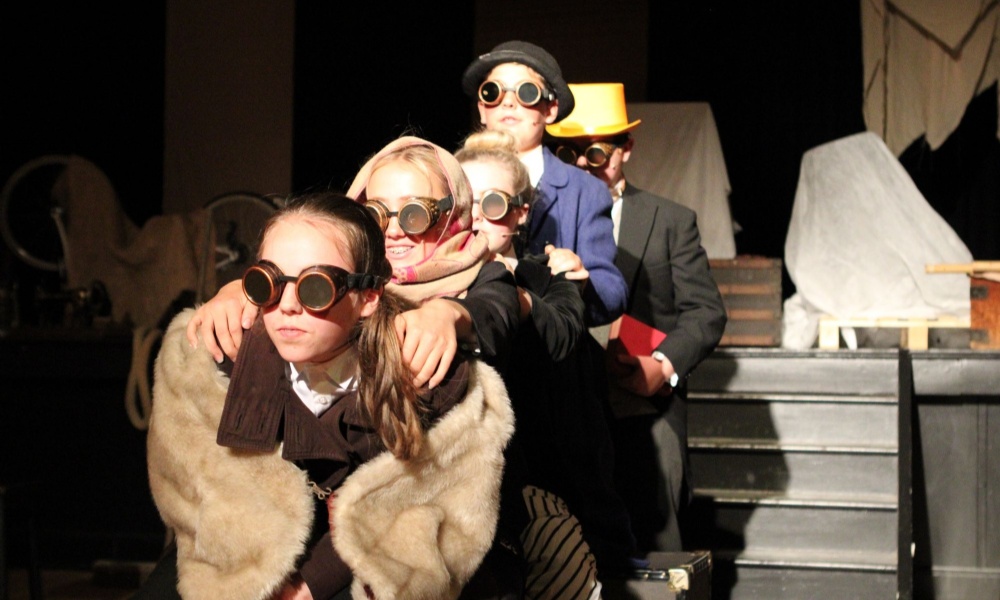 The Lower School Production is back after a 3-year break. Let's find out more about the stars of the show!
Fresh from the success of the Lower School Production, Around the World in 80 Days, we caught up with Matthew, CJ, Charlie, and Barney to find out more about life in the Drama Department.
Which part did you play in Around the world in 80 days?
Matthew I played Phileas Fogg.
CJ I played the part of Inspector Fix.
Charlie I played Mr. Naidu, Battle Clar and Cornel stamp Procter.
Barney I played Passepartout.
How long have you been involved in Drama at Lingfield?
CJ I have been involved in Lingfield drama ever since I joined the school in year 7, I went for the scholarship in year 9 and got the award.
Matthew I joined in Year 9 as a drama scholar
Barney I have been a drama scholar for 3 years and have been involved in all the shows in those times. I am also involved in Drama outside of school.
Charlie I joined the school in year 4 and have loved it ever since, in year 6 I went for the drama scholarship and got it. I keep my drama scholarship all the way to sixth form. I love drama, and it really does have a place in my heart. I don't get involved in the tech side of it, but I do find it interesting and do have a brief idea of the lighting.
What was your favourite part of the production?
CJ I loved lots about it, especially the rehearsals. However, my favourite part had to be spending time with the year 9 drama scholars, we always have a great time!
Matthew My favourite part was the fact that I get on rather well with everyone in the main cast, who I spent a lot of time with at rehearsals due to the nature of the play. That was fun.
Barney Definitely the frantic last minute rehearsals because then you know that you've got a show.
Charlie My favourite part of the production was coming together in rehearsals and really feeling involved like a family and helping each other out.
What is it you love most about Drama?
CJ Playing different characters, I love expressing myself through drama.
Matthew I love drama as a platform to consume and tell stories, as well as it being an exercise in empathy, having to frequently put myself in the shoes of those very different to me. It is also a great way to explore one's personality when you play a role that is similar to you.
Barney What I love most is the fact that anyone can get involved and the support you get from teachers.
Charlie I love the family aspect of it as we all help each other and we have known each other for a while. We are like a family within the drama department always there for each other and have a great laugh.