Introducing our Head Student Team for 2022/23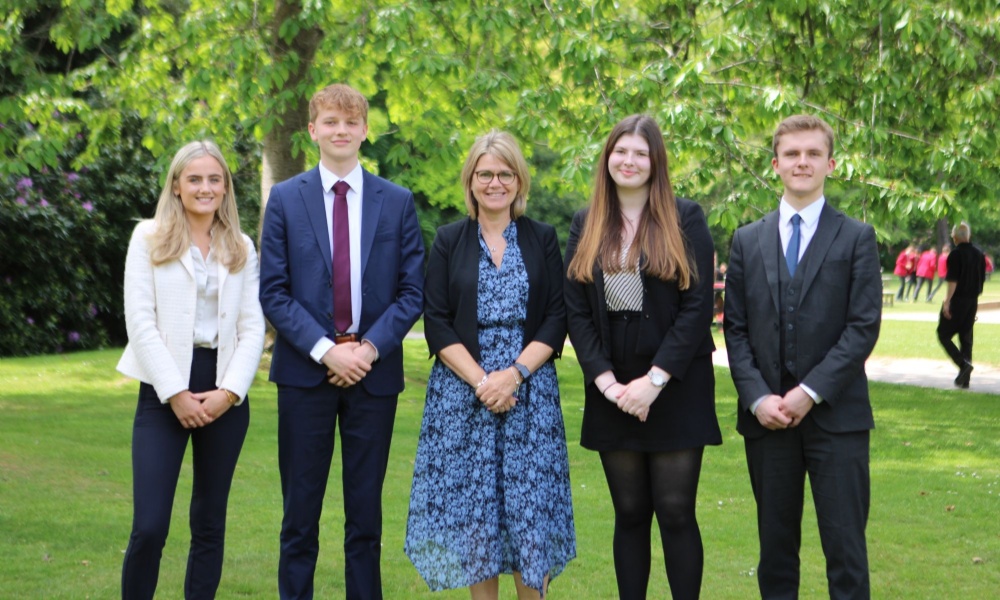 We are pleased to introduce Lingfield College's new student Head Team for the 2022-2023 Academic year.
Dan, Jasmin, Maddi and Ed.
This week we caught up with them to learn more about them and their plans for the coming year.
Hi everyone. Can you please introduce yourselves to the Lingfield Community?
Dan: Hi there. My name is Dan Clarke, and I am delighted to say I am your new Head Student for this year.
Jasmin: Hi, my name is Jasmin Ecclestone-Joyce. You can call me Jasmin. I am the new Head Student for this year!
Maddi: Hello, everyone. My name is Madison, but my friends and teachers call me Maddi. I am delighted to be the new Deputy Head Student for Lingfield this year, and I am looking forward to fulfilling my role next year.
Ed: Hello, I am Edward Godwin, but I go by Ed, sometimes just Godwin, and I am the new Deputy Head Student.
So why did you want to become part of the Head Student Team?
Jasmin: I wanted to become part of the Head Student Team because I believe that all students should have someone they can approach and talk to, and I feel that I am easy to communicate with. Also, I loved the idea of representing the School that I have been at for currently 15 years!
Maddi: I chose to apply for the Head Student Team as I love contributing to the School; I've been here since Year 5, and being a role model for the younger pupils makes me incredibly proud. I love working with new people around the School, and I cannot wait to chat with lots of you!
Ed: I have been here my whole life, and so I think that this position can allow me to give something back to the School.
Dan: I would like to help other students get as much out of their time at Lingfield as I have. As a member of the team, I relish the opportunity to help shape the experience of other pupils, in every year group, in a positive way.
What did the application process entail?
Maddi: The application process started with an electronic application of a few questions, for example, 'what makes a good Head Student Team?' Then we had to send them back to Mrs Folkard to go forward for the interviews in person. This was nerve-racking, but I enjoyed the experience a lot! Then you got shortlisted for the final 'open day speech' that you had to write yourself and present in front of the panel of Deputy Heads of the Sixth Form, Head of Sixth Form and the Headmaster. Although it took a lot of courage, I was incredibly proud of myself for taking on that challenge.
Dan: After completing an application form, I was interviewed by Mrs Folkard and a member of the previous Head Student Team. I was then selected to give a presentation in front of a panel of senior staff members as if I were presenting to prospective parents on a School Open Day.
Ed: The application process is focused on you; I found it comfortable as it allows you to be yourself and show what you have to offer.
Jasmin: Firstly, I had to complete an application form which included some questions, for example, my key attributes, what makes an effective Head Student Team, and a few more, then I met up with Mrs Folkard and a member of the Head Student Team where we discussed my answers, and they asked me a few other questions. After this, nine students went through to the Final Round. This meant that we had to write and present a speech, as if it was to prospective parents on an open day about our time at Lingfield College and why it is so special to us. We had to present this to a panel, including the Headmaster, Head of Sixth Form & the Deputy Heads. We found out the following day who the Head Student Team consisted of!
What qualities do you think a member of the Head Student Team should possess?
Dan: Being approachable is key. As representatives for all students at the School, they should feel they can talk to the team about anything they consider important. Dedication is also critical. The team members must be committed to carrying out their duties to the best of their ability.
Jasmin: I feel that all members of the Head Student Team should be friendly, passionate about Lingfield College, and be someone that all students can feel they can speak to about anything.
Ed: I think every quality should be considered, but for this kind of team, I believe that you mainly need to be able to work with other people and students, and so being approachable should be considered hugely.
Maddi: As part of the Head Student Team myself, being collaborative is extremely important; I think working with new people and listening to their thoughts and feelings is crucial. I also think being a very positive individual is key to being a good Head Student. When times can be challenging for peers or teachers, you will need to keep positive and consistent to deliver the correct advice to the community!
What one thing would you like to achieve in your role for the coming year?
Ed: I would love to see a reintroduction of the form representatives to bridge communication between all students from each year, and to foster a more cooperative environment in the whole Senior School.
Jasmin: I would really like to make sure that this year we can get Lingfield College back to feeling a whole; after the numerous lockdowns due to the pandemic, we did lose that sense of community feeling. I hope that this year and the rest of the Head Student Team can get the School feeling like a community and back together again.
Maddi: As much as this is cliché, I want to fulfil my potential by listening and ensuring I achieve everything those around, pupils or teachers ask of me. I really want to consider everyone's thoughts and ideas to make Lingfield the best it can be! If someone is having a problem, I want them to feel safe in the knowledge they can approach me.
Dan: My main goal this year is to re-establish a connection between all the year groups at the college. Post pandemic, it is more vital than ever we come together as a school as a whole, and I would be delighted to see this happen during my time as a Head Student.
What are you most looking forward to?
Maddi: I am really excited to work with Jasmin, Dan and Ed. Before being appointed to this position, we had a friendly relationship. I can't wait to spend more time with them, putting our heads together to come up with a mixture of exciting and fresh ideas for Lingfield College.
Dan: It's hard to look past the Christmas pantomime, to be honest. Hopefully, we'll be able to bring it back to the auditorium!
Jasmin: I'm most looking forward to spending time with not only younger students in the Senior School but also going down to the Prep School and seeing the students and teachers, since I also used to be there myself - as I joined back when I was 2 and 1/2, in 2007!
Ed: I am mostly looking forward to working with students and staff to make the Lingfield experience even better.
Summarise yourself in 3 words.
Dan: Inquisitive, collaborative, proud.
Jasmin: I would say I am driven, empathetic/compassionate, and confident.
Ed: Three words... Determined, Confident and Pragmatic.
Maddi: Sporty. Approachable. Encouraging.