Lingfield Students Celebrate EXCELLENT GCSE Results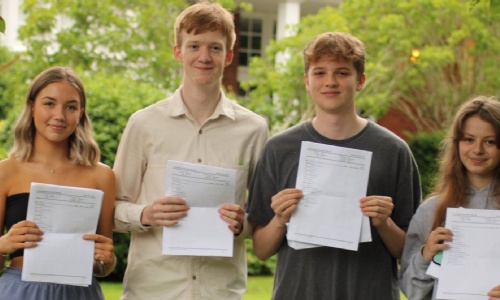 Following outstanding A Level results on Tuesday, Lingfield students, staff and families are once again celebrating today after receiving exceptional GCSE results.
Following outstanding A Level results on Tuesday, Lingfield students, staff and families are once again celebrating today after receiving exceptional GCSE results. The high achieving Class of 2021 demonstrated resilience and positivity beyond measure to succeed in the most challenging times. Many of our students attained top grades. More than one in five achieved at least five Grade 9s and 77% of all results were at Grades 9 to 7. Lingfield students are right to feel proud.
Headmaster Richard Bool congratulated the pupils on their hard work and well-deserved success: "I am delighted with our students' brilliant GCSE results. It has been a very challenging year, but they responded brilliantly, and the superb results reflect their ability, hard work and resilience." He added: "I look forward to welcoming back many of them, alongside several new joiners, to build on this excellent foundation for their Sixth Form studies. I am very grateful for the dedication of all our teachers who worked incredibly hard to help the students achieve these results and for the support of our parents in what was an extremely challenging year."
We are proud of the many individual successes within today's results, with particular recognition going to the three students who achieved 10 grade 9s, and the 11 students who achieved at least 6 grade 9s. Here are some student reflections on their success:
Daniel C, who joined Lingfield in Year 7, has been awarded ten grade 9s and is moving up to Sixth Form to study A Level Maths, Further Maths, Chemistry and Biology. He reflected on his experience: "I'm so pleased with my results after working so hard. I have really enjoyed Maths. My teachers have been great supporting me online during lockdown."
Boe W, who joined Lingfield Prep in Year 5, awarded ten grade 9s said: "Lingfield helped me gain confidence in my academics. Lockdown learning was a challenge, but the school handled it so well." Boe plans to join many of her friends in Sixth Form next year to study English Literature, History and Philosophy.
Art Student Annabelle believes that the freedom to express her creativity was key to her success in achieving Grade 9 in Art. She said: "Mrs Lewis gave us the freedom to experiment. At the beginning, it felt like pushing us off at the deep end, but as we progressed, it became easier and I really liked that." Head of Art, Mrs Lewis said of Annabelle: "She really has been amazing to teach! She came in and experimented right from the start and hasn't been afraid to be really creative. She came into my art room for every lesson engaged, motivated and excited. Her grade 9 is thoroughly well deserved!"
Head of Year 11, Yan Gonachan said: "This morning, it has been a delight to see so many smiles and happy faces. They have impressed me for the last 4 years and they can now collect the fruits of their labour. Even a pandemic can't get them down! I wish them all the very best for the future."
Many of the students will be returning to join us to study A Level and BTEC courses in September, in the stimulating and dynamic learning environment of our purpose-built Sixth Form Centre. They will be joined by new students from schools in the area. We look forward to welcoming everyone back, with fewer pandemic challenges and lots more exciting opportunities in the next stage of their educational journey.