Year 12 students deliver their Extended Project Qualification Presentations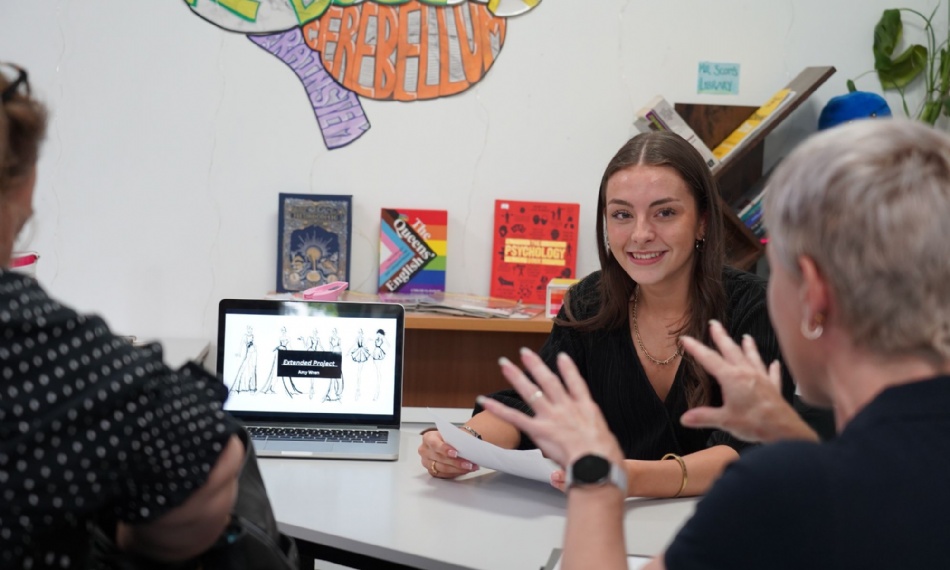 Congratulation to Year 12 students on completing their EPQ presentations
Alongside A Level studies our Year 12s were given the option to complete an Extended Project Qualification (EPQ). Designed to extend and develop our students' skill set beyond A Level studies, the EPQ is a student-led project which involves comprehensive planning and research in order to write a 5,000-word essay on a topic of their choice.
On Wednesday evening parents and staff were invited into our Sixth Form to listen to students presenting their projects. The presentation element of the qualification counts towards the final mark and allows students to demonstrate the in-depth research and planning that they had put into their essays, as well as presenting and answering questions using their extensive knowledge of their chosen subject.
By taking part in the EPQ our students have been able to show effective independent learning skills and problem-solving abilities. Along with the confidence they've gleaned from presenting their research in front of staff and parents, these skills are vital for preparing students for the next chapter of their professional life after Lingfield College.
The subjects that our students chose to conduct their research on were:
Oliver - Has the introduction of Computer-Generated Images (CGI) into mainstream film improved or worsened production?
Matilda -How effective is the current criminal justice system as measured by recidivism rates?
Lola - A Literature Review on my Autism is More Prevalent in Boys than Girls
Maximilian - 'In 2022, How and Why Did the Top Three Formula One Teams Have Such Contrasting Aerodynamic Car Concepts, and What Made One Succeed Over the Other?'
Mollie - Will the proposed Online Safety Bill offer sufficient protection for young people? I will discuss the relevance and effect of the Online Safety Bill within my hypothesis in my introduction.
Daniel - How damaging has sportswashing been to the global game of football and should we allow it to continue?
James - My agreed form of project product is an essay with the title of "Can happiness be quantified and how significant of an impact does income have upon it?"
Jessica - Is Princess Diana a figure of female empowerment?
Poppy - 'Has the high heels helped or hindered females' emancipation from patriarchal control?'
Ollie - How have the treatments and strategies for overcoming Altitude Sickness evolved over time, and what innovations and advancements can we expect in the future?
William - How did the VTEC engine improve the emissions, fuel consumption, efficiency, reliability of car engines as compared to other engine models designed by Honda?"
Alex - Are black holes purely a destructive force of nature or do they have ..... constructive ....?
Luka - What was the most significant reason for the development of the Mongolian Empire in terms of: Genghis Khan as a leader, Mongolian war strategies and The warriors.
Rebecca - What are the main reasons for a decline in modern foreign languages being taken in English schools since 2000?
Gil - An evaluation: Why did Japanese animation grow in popularity in the western multimedia market?
Cormac - What factors allowed for the Industrial Revolution to take place and expand in Great Britain as opposed to other Nations?
Olivia - What are the main reasons for a difference in the gender wage gap in the sports including tennis, football and volleyball.
Claudia - Do 12–18-year-old British Music Listeners Underestimate the Power Music Has on our Emotions, Behaviour and Society?
Annabelle - Should a child's desire to live with one parent or the other affect the court's decision in custody cases?
Isabel - What are the three major prospective effects of dark matter, and which have the biggest impact on the formation of organisms?
Katie - "Which area of multiple sclerosis research necessitates funding the most, with the aim of improving patient quality of life?"
Ewan - 'How safe is modern day commercial aviation (2000s+) in regard to pilots training, protocols and modern-day technology.'
Arthur - What is the most effective way to positively impact humanity via charitable giving?
Harry - Can Low-Cost Long-Haul aviation be successful?
Amy - Can a high-quality piece of clothing be produced from second hand clothes to promote sustainability?
Well done to everyone who took part in the EPQ Presentation Evening and all the hard work that you have put in to each of your projects!
Find out more about the Extended Project Qualification (EPQ).