U11 Boys Crowned ISA National Champs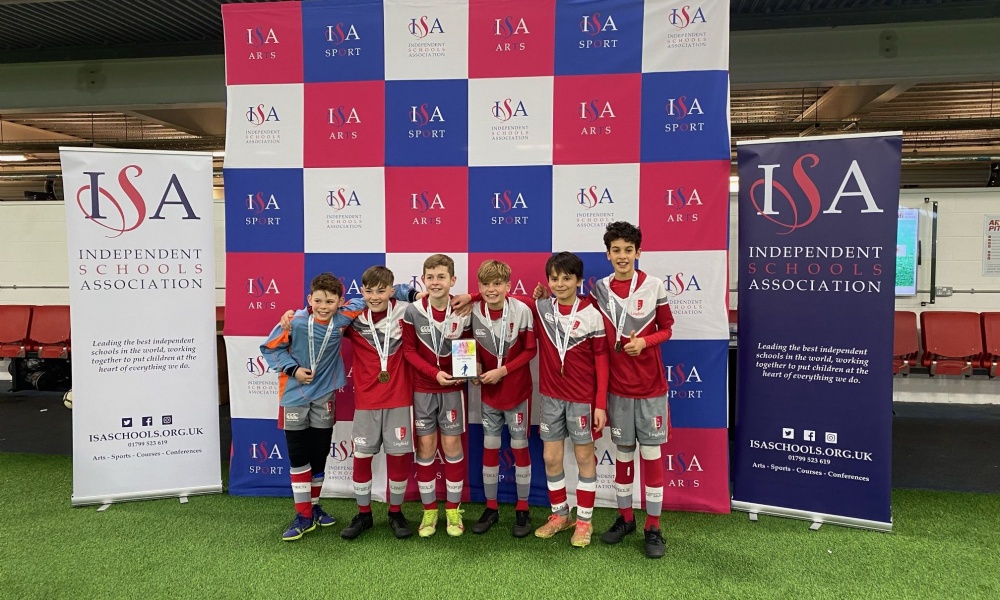 We are so proud of our U11 boys who are now National Champions after winning 10 out of 10 games at the ISA finals
We are super proud of our U11s who, on Friday were crowned ISA National Champions at St Georges Park, the home of English Football.
After successfully winning the regional tournament in November, our U11 boys travelled to the prestigious St George's Park for the ISA National 5-a-side football championships on Friday 11th March. 26 schools from 7 regions across the country were all in attendance.
The boys dominated the group stages from start to finish, scoring 23 goals and conceding just 1. Our talented team played some excellent and exciting attacking football to finish top of our group. This superb start to the day ensured our progression into the cup competition.
Group Stage Results

King Alfred School (London)

2-0

Dixie Grammar School (Leicstershire)

4-1

Littlegarth School (Colchester)

3-0

Wandsworth Preparatory School (London)

6-0

St Joseph's School (Launceston - Cornwall)

6-0

Branwood Preparatory School (Manchester)

2-0
In the first game of the cup competition, we faced Ursuline Prep, (Essex), who had also finished top of their group. The boys once again started the game assertively and quickly took a 2-0 lead. Although Ursuline pulled one goal back, just before half time, we scored a further goal in the second half to win 3-1. Our next opponents were Finborough School, (Suffolk), where we once again played some extremely skilfull football and secured a 2-0 win. This victory allowed us only to ned a draw in the last game against Crosfields School, (Reading), to progress to the final. The boys stepped up their performance once again and dominated this encounter, winning 3-0.
In the final we faced Branwood Prep, who we had previously beaten in the group stages. After an end to end start to the game, the boys took control and Lingfield led 2-0 at half time. The team were determined to finish this tournament strongly and they blew away the opponents in the second half. Scoring a further 3 goals in this period we secured a comfortable 5-0 victory and Lingfield were crowned ISA National Champions.
The boys thoroughly deserved to win this tournament and they should be delighted with their fantastic performances. We had so many teachers and coaches from other schools approach us to say how brilliantly the boys played throughout the tournament. The team certainly left a fantastic impression on all spectators and opponents.
We are extremely proud of all the boys who contributed to this amazing achievement and would like to say a HUGE well done, not just for their wonderful play, but also for their sportsmanship, determination and effort to always try their very best.
Many congratulations to; Freddie, Louis, Ollie, Riley, Adam and Arthur for an outstanding team performance.
Many thanks also to all the parents, grandparents and siblings who came along to support and help make this day very special for all involved.
Mrs Major & Mr Kempson
ry here.