Staff Spotlight - Mr Douse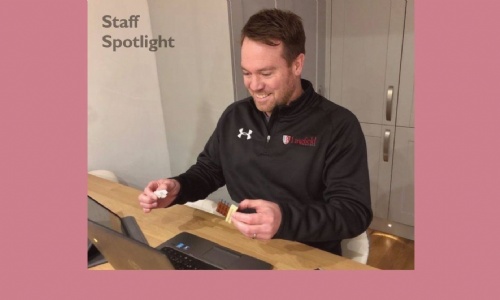 Please enter an introduction for your news story here.
This term we welcome Mr Douse to our PE department as Head of Academic PE. He is already getting stuck into remote learning, for example teaching GCSE PE class about the structure of complex carbohydrates and lipids for respiration.....with LEGO! (picture above). But he took some time to answer our questions about himself.
What career route did you take to Lingfield College?
My career route is relatively simple; following my teacher training at Cheltenham College, I joined Tunbridge Wells Grammar School for Boys as Head of Rugby in 2003 and enjoyed a variety of roles and responsibilities.
What is your favourite sport?
I genuinely enjoy all sports. Rugby has always been a big part of my life and I am fortunate enough to still enjoy playing. I am hoping that will still be the case when rugby starts again after the Covid lockdown. Skiing and surfing come a very close second.
How do you keep fit during lockdown? Any tips?
HIIT workouts are my current choice. They are short duration, can be done inside and require little equipment.
If you weren't a PE teacher what would you be?
Anything to do with sport. I enjoy every aspect, so if i couldn't teach it, I would probaby be involved in developing new sporting technology or performance analysis.