Lingfield College Sporting Roundup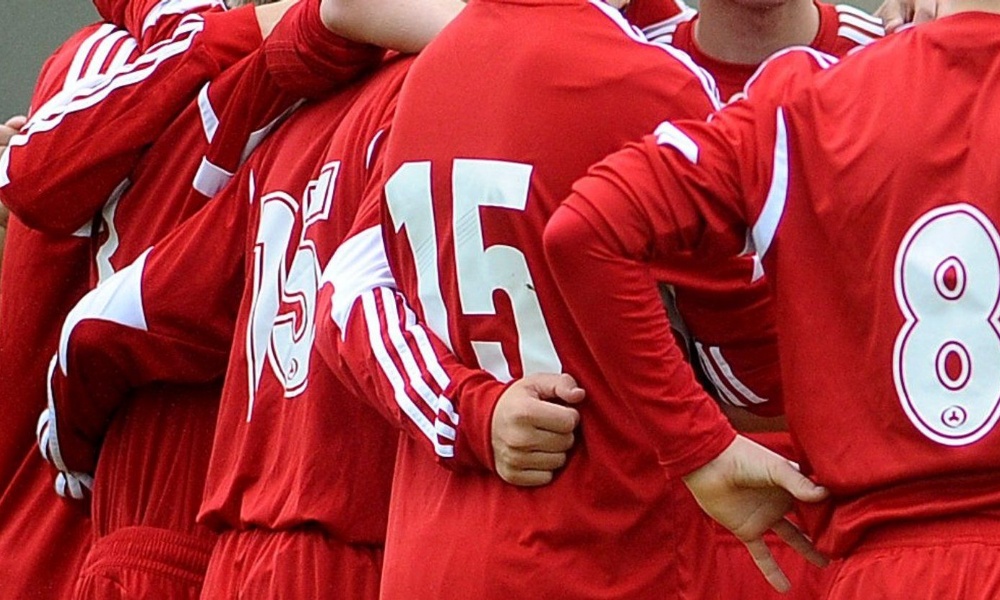 All the Senior School Hockey and Football news from the Winter term!
Hockey
Mr Mackey, Head of Hockey
I would like to start by thanking everyone staff and student alike for their application this term. Coming back into a full sports programme after such a long time has been great and we have participated in over 125 hockey matches across the school.
The years 7s have adapted well to sport in the senior school and should be commended for their efforts. From a blistery Roedean coastline game to a rainy day at EG their energy and enthusiasm never faulted.
The year 8s enjoyed a fantastic term of hockey and every girl in the year group played an integral part to the hockey programme. The standout side this term has been the U13A side who have strung together some impressive performances under Miss Thompson, only losing 3 games out of 12, beating schools such as Worth, Seaford, and St Johns, Leatherhead along the way.
The U14A team won the U14 ISA tournament at the Olympic park in November captained by stand out player Jess. All the year 9s should be praised for their adaption to 11 aside hockey which is never an easy feat.
Similar to the U13A side, the U15A team have had a fantastic term to date. Some notable results including an 8-0 win v Radnor House & 5-0 win v Worth. The following year 10 students should be highlighted as their performances earned themselves a call up to the 1st XI this year, Emilia, Scarlett, Louisa & Mackenzie.
The senior programme flourished once again, and participation numbers required having 3 teams. Although losing their captain early on to injury both Josie and Eve rose to the challenge and lead the 1st XI fantastically. The 1st XI enjoyed some strong wins against Lancing College and Burgess Hill and above all have finished the year with some brilliant team performances that bode well for the future.
What should also be highlighted is both the U16 Boys and Girls indoor teams performed brilliantly in the indoor tournaments this term with the boys narrowly missing out on qualification by 1 point. Both teams beat some strong hockey schools including St Geroge's Weybridge, RGS Guilford & St Teresa's which is amazing.
Thank you to all students for your commitments and efforts during this term.
U13 Team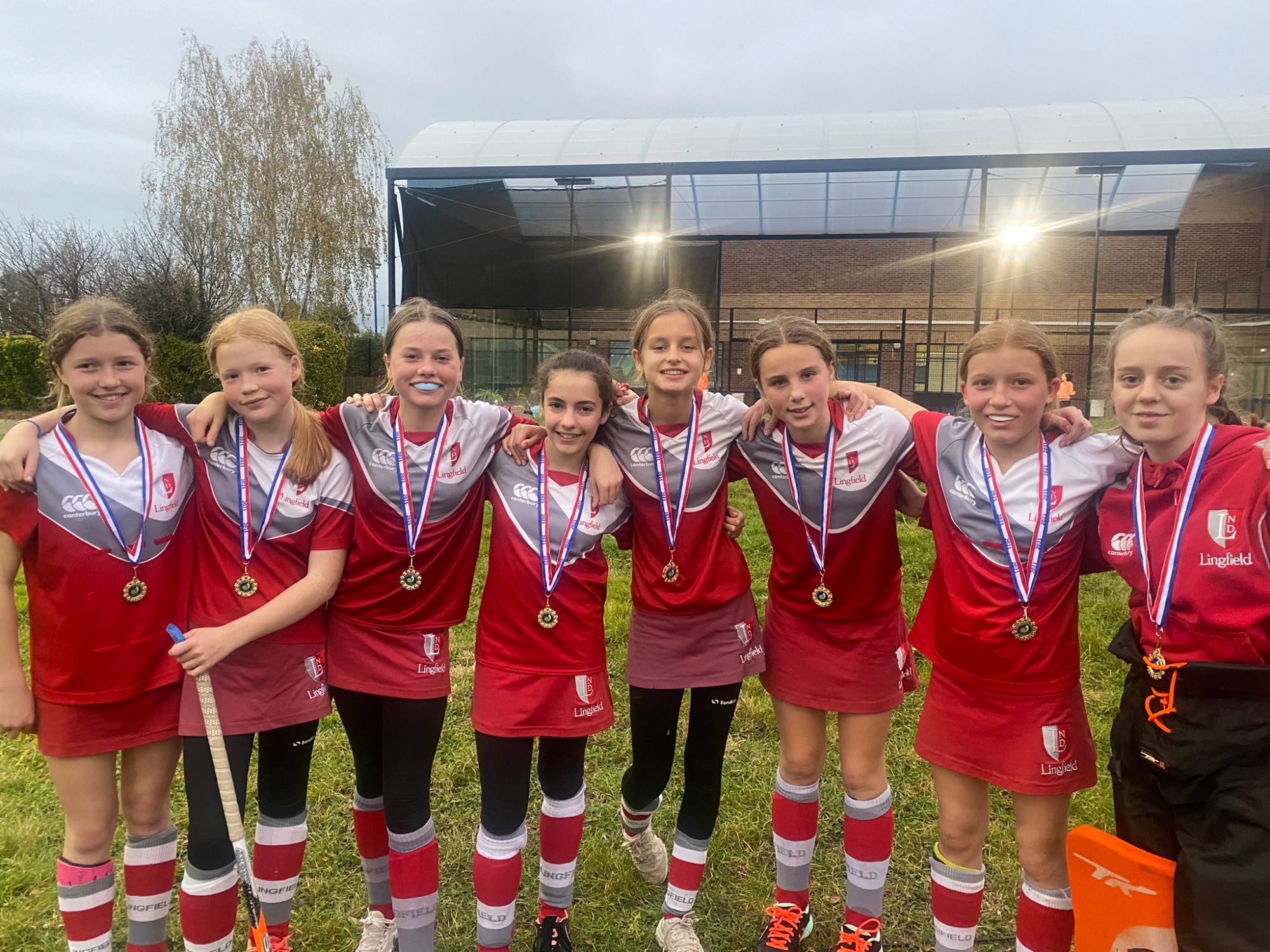 U14 Team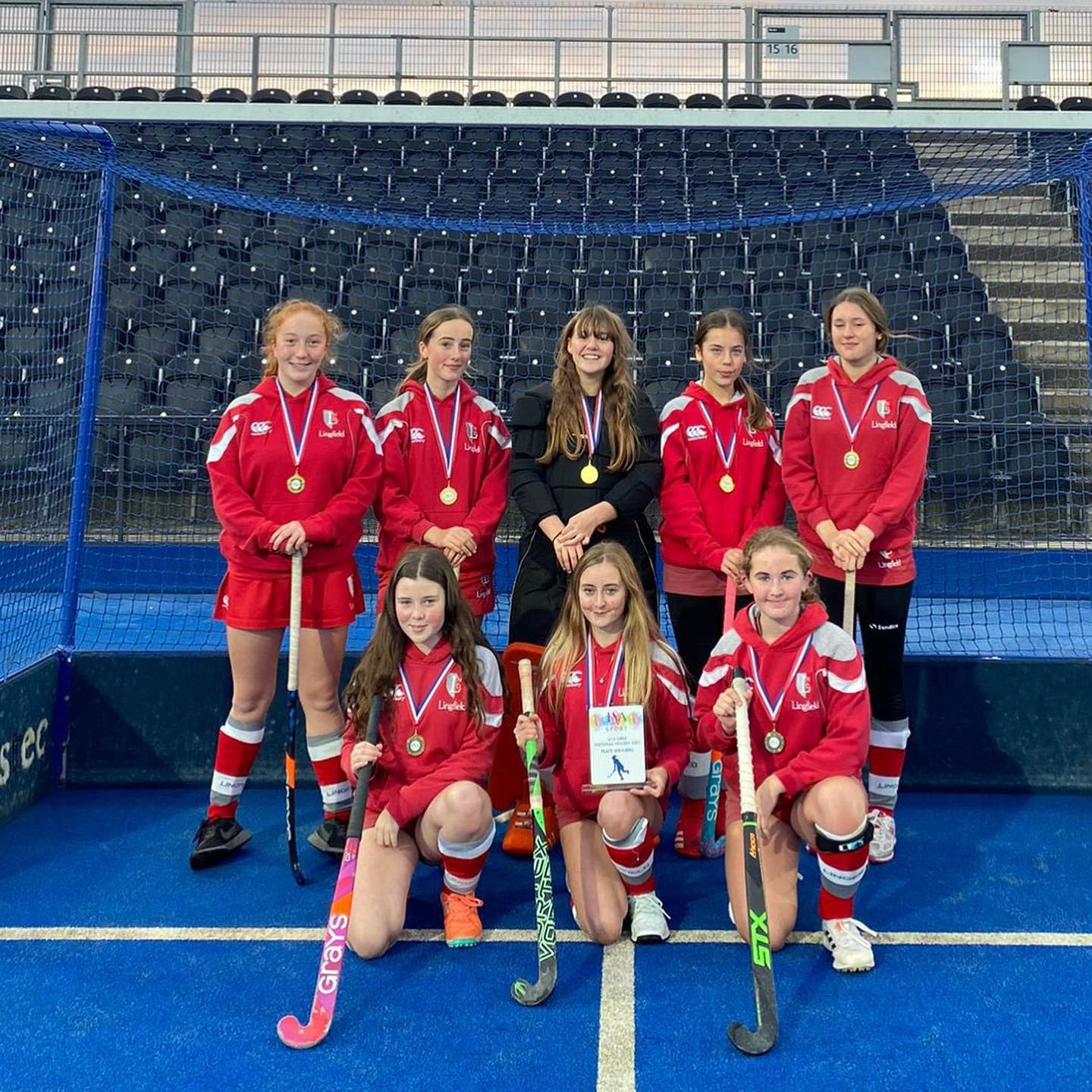 Football
Mr Harrison, Head of Boys' Games
This term the boys have played 139 matches across all age groups, winning nearly 55% of these which would, in Premier League terms, put the College in a Europa league spot.
Some teams, however, would be top of the Premier League if their stats were analysed individually, notably the Year 7s and 9s. Furthermore, we still have 3 teams competing in the national ESFA competitions which has played a large part in making this season our most successful ever.
The Year 9 team have now reached the quarter-finals of this competition having defeated four teams to reach this stage. The Year 7s and Year 8s will be hoping to match this feat when they face their opponents in January.
Every year group secured some notable victories during the term. All of our 'A' teams beat our much larger local rivals, Sackville. The 1st X1 finished their season strongly with wins against Oxted, Sevenoaks and Wellington College. Our 2nd X1 lost a number of games narrowly but were victorious against Gordons, Tonbridge and Eastbourne. The U16 team had runs in the ISFA and ESFA cup competitions before losing out to Claremont and Cobham respectively.
The U15s also had a strong run in the ISFA cup, beating our local rivals Reigate Grammar and Worth (on penalties after extra-time) before succumbing to Dulwich College.
Our Year 9 team has had an extremely successful season, winning nearly 80% of their games. Their cup run has been an obvious highlight but the comfortable victories against Lancing and Wellington College were a pleasure to watch.
As mentioned, the Year 7s and 8s have had excellent cup runs and wins against a variety of schools in between, especially the recent blocks against Sevenoaks and Brighton College in which we won 10 games out of 10, scoring 64 goals and conceding 4 in the process!
Well done to all teams this term in what has been a very successful term.
On an individual level, congratulations to Harvey in Year 8, who has recently been selected to represent the Surrey Schools' U13 squad following a trial of over 130 footballers.
U14 Team