Lingfield College receives Leading Mental Health Award ​​​​​​​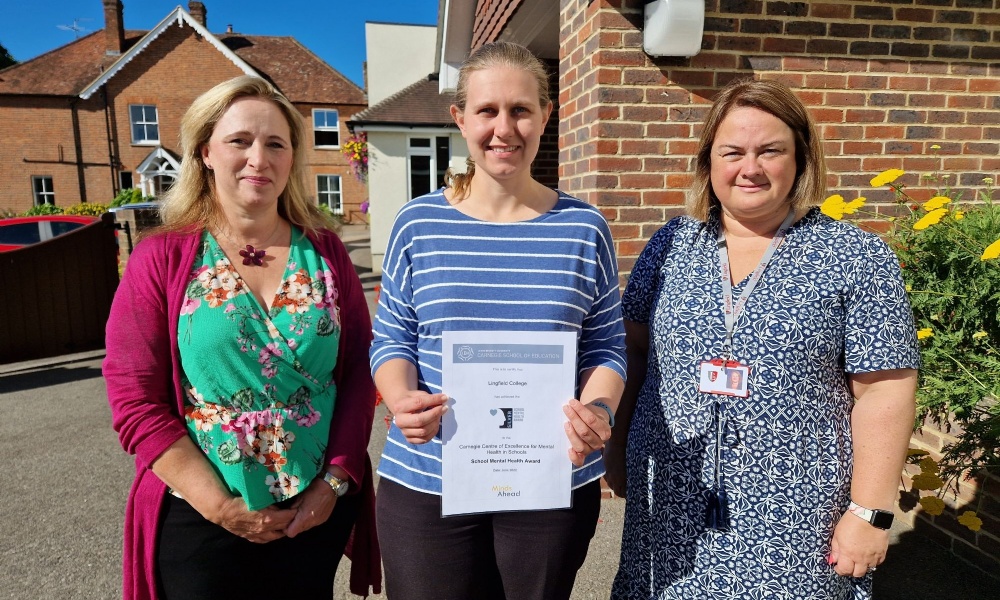 Lingfield College is delighted to announce that we have been awarded the Carnegie Centre of Excellence for Mental Health Award – Silver Status in recognition of the quality of our work to embed a culture that values the happiness and the emotional welfare of all of its pupils, staff and the wider community.
The award was established in 2017 by the Carnegie Centre of Excellence for Mental Health in Schools – part of Leeds Beckett University – and social enterprise Minds Ahead.
The Carnegie Centre of Excellence for Mental Health in Schools aims to strengthen pupils' mental health by supporting schools to make a positive change at all levels of the UK's education system, improving students' outcomes and life chances.
Schools are assessed against eight key competencies, with inspectors looking for evidence-based approaches that align with the latest professional guidance. Judges award Bronze, Silver and Gold awards accordingly. The Silver Mental Health Award for Schools was a natural progression of our hard work towards the Bronze award in 2018, and we are delighted to have recognition for this.
Lingfield College has consistently been recognised as a School synonymous with compassion, protection and inclusivity. At the very heart of this is our established Pastoral care programme, which is fully integrated from Nursery to Sixth Form, designed to ensure that every pupil feels recognised and valued, and their individual academic and personal journey is understood, shared and supported. Wellbeing activities are established, considered and wide-ranging from embedded PSHE programmes to Mental Health Dogs, Mindfulness Activities to Mental Health Ambassadors and much more. The interactions between all members of our community are one of mutual respect. These closely formed relationships and our warm and supportive environment allow children to feel safe enough to share any concerns, along with their celebrations and successes.
The Head of Prep, Jacky Shackel, said "We are very proud to have achieved this accreditation/award as we are very keen to keep developing ways to improve the wellbeing of all those within our community so that they are effective learners and productive and happy citizens."
Extracts from the report stated that:
"The school lead for mental health talks of Lingfield being family orientated where everyone feels part of an extended family."
"The school has carried out more pupil questionnaires, has employed a support worker with the second one expected soon, there is a play therapist and an art therapist. Children in years 3 to 6 journal on a weekly basis to reflect on what they have done well and "things they've found trickier." Some children have written poems, for example, expressing loneliness, and support has been put in place as a result.
"Staff wellbeing has been brought more into the heart of the school. A range of physical activities is available. There are questionnaires, opportunities to talk to people and HR wellbeing check-ins. All staff know that there is support available were it needed."
Lingfield has partnerships with two local nurseries, two primaries and two secondary schools. The forest school has been opened up to two local primaries. Sporting and coaching facilities are shared with the secondary schools. Mental health talks have been made available to these other schools and also to the parents. The school's work on LGBTQ+ has also been shared with these schools.
It concluded that
Due to the quality of the work that the school has embedded, and its work with local schools, health services and local charities, I recommend that Lingfield College is awarded the Carnegie Centre of Excellence for Mental Health in Schools Mental Health Award at the Silver level.

Liz Dawson, Carnegie School of Education
Deputy Head, Pastoral Angela Brown said, "Mental Health and well-being issues in the young have been our focus as a School. Pupils face many challenges in 2022, such as social media, cyberbullying, etc. They are under pressure to do well and face increasing challenges in the job market afterwards. At Lingfield, we both address these issues and prioritise creating a positive environment where well-being can flourish, and happiness is commonplace. We are so excited that this award recognises that we have risen to the challenge."
For more information on how we promote a culture of well-being and happiness, visit our wellbeing & pastoral pages.