IEA Budget Challenge 2021 finals​​​​​​​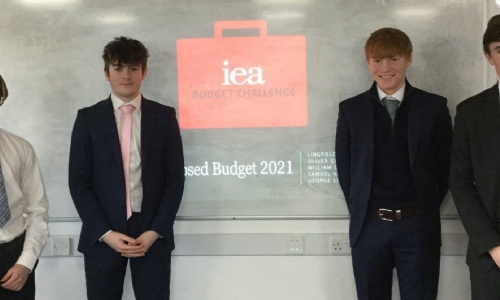 Lingfield through to the next round!
On Monday 15th March four students from the Business and Economics department spent the afternoon participating in the IEA Budget Challenge, a competition where teams are invited to prepare a mock budget ahead of the real thing. The four students (Oli, Will, George and Sam) put together a really good proposal and were selected to join six other schools to compete via online presentations for the first prize. Their presentation to a panel of judges, including the head of the IEA and other notable economists, was widely praised for its structure and delivery. The questioning by the panel was rigorous and challenging, with one answer meeting the response from the judge "that is a very good answer - I disagree with you, but you have answered the question very well" - strong praise indeed.
Ultimately the team were given a runners-up prize, sharing a cash prize of £250 but also winning the chance to - lockdown permitting - undertake an internship at the IEA offices in the summer, something a number of past students have benefited from.
It is abundantly clear the students all gained a huge amount of knowledge and inspiration from this competition. Seeing the other teams helped them understand how to bolster their presentation skills; hearing other ideas about budget priorities led them to consider their own priorities. This was a richly rewarding experience and the department looks forward to next year's Budget Challenge with renewed enthusiasm.
Joss Bolton
Head of Economics & Business