Lingfield Students Celebrate GCSE Results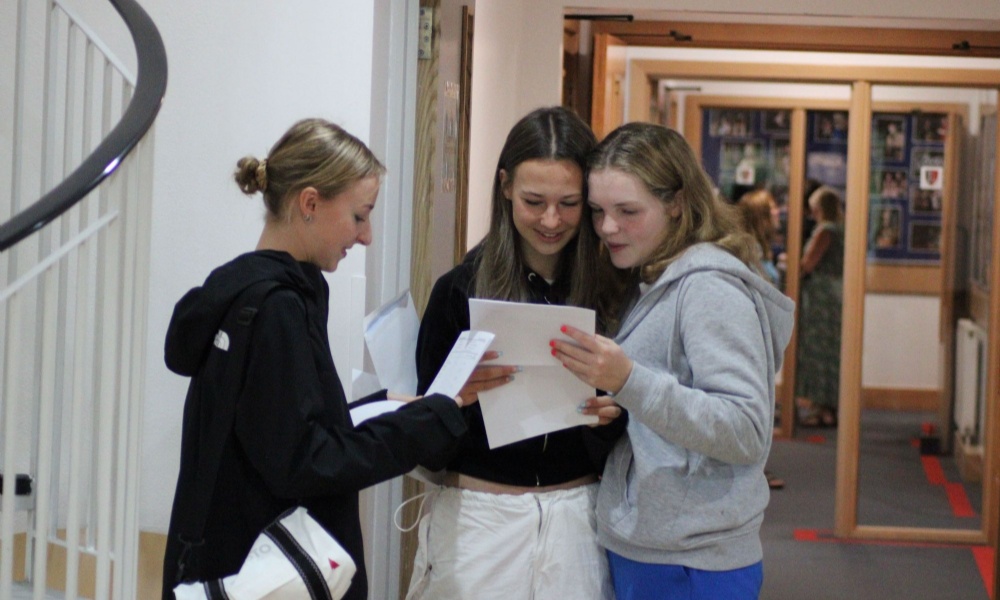 Following outstanding A Level results on Thursday, Lingfield students, staff and families are once again celebrating today after receiving their GCSE results.
Today it was the turn of our GCSE students to celebrate their hard work from the past 2 years. Many of our students achieved top grades with an overall pass rate of 98%, and over half of students were awarded grades 7,8 or 9 (A or A* equivalent).
Headmaster Richard Bool congratulated them: "I was delighted to witness an impressive group of students at Lingfield College receive their results today. Indeed, it was wonderful to see the happiness and pride they felt when they opened their envelopes. I would like to offer my thanks to all the outstanding staff who have worked so hard to enable their students' success, together with our families who provided support and encouragement along their journey. They are a brilliant group of young people who thoroughly deserve this success, and we look forward to seeing many of them in the Sixth Form next year."
Craig Fast, Deputy Head Academic, also explained how proud we are, "I am very pleased to congratulate our Year 11 students on their excellent GCSE results this year, which are a culmination of the hard work and commitment they have shown in their studies. We are incredibly proud of each and every student. Our staff have done a fantastic job of supporting and guiding students through the challenges they faced and created an environment where students could achieve and flourish. GCSE results across the full range of subjects have shown some brilliant success. We are thrilled to see 100% of students achieve grades of 9-4 in Maths and a high proportion of students achieving top grades in English, Media Studies, History and Religious Studies. Congratulations to all students for the resilience they have shown and the progress they have made."
Here are some student reflections on their success:
Congratulations to Sport and Academic Scholar Arthur T who has achieved 8x grade 9 and 1x grade 8. He has been a student at Lingfield since Nursery and will continue on to Lingfield Sixth Form in September to study for A Levels in Maths, Chemistry and Philosophy. Arthur has also had a very successful year on the hockey pitch having been selected to play in the England Hockey Performance Centre tournament earlier in August. He said, "The atmosphere at Lingfield is one of the best things about the school...I've always been given all the support I've needed."
Another Sport Scholar, Poppy G was also awarded 8 x grade 9 and 1 x grade 8. She praised the supportive atmosphere at the School, "I feel that whenever I've asked for help I have been able to go to extra clinics and get the help that I needed." Poppy will be continuing into the Sixth Form to take A Levels in Biology, Maths and Business Studies.
Art Scholar Max A is particularly proud of being awarded a 9 in Maths after working incredibly hard to achieve this grade, "The teachers in the Maths department were particularly supportive and offered lots of extra 1-1 sessions." During his time at Lingfield Senior School he has particularly enjoyed taking part in Jazz and Rock evenings. Max will also be continuing his studies at Lingfield Sixth Form taking A Levels in Maths, Physics and Art.
A special mention also goes to year 9 students River and Miko who were both awarded a grade 9 in their GCSE German.
Over 70% of students will be returning to join us to study A Level and BTEC courses in September, in the stimulating and dynamic learning environment of our purpose-built Sixth Form Centre. They will be joined by new students from schools in the area. We look forward to welcoming everyone back for lots more exciting opportunities in the next stage of their educational journey.
If you would like to learn more about studying at Lingfield College, our Senior School Open Morning takes place on Saturday 24th September and our Sixth Form Open Evening on Thursday 6th October. To find out more click here.