Celebrating Success: Lingfield A Level and BTEC Results Day 2023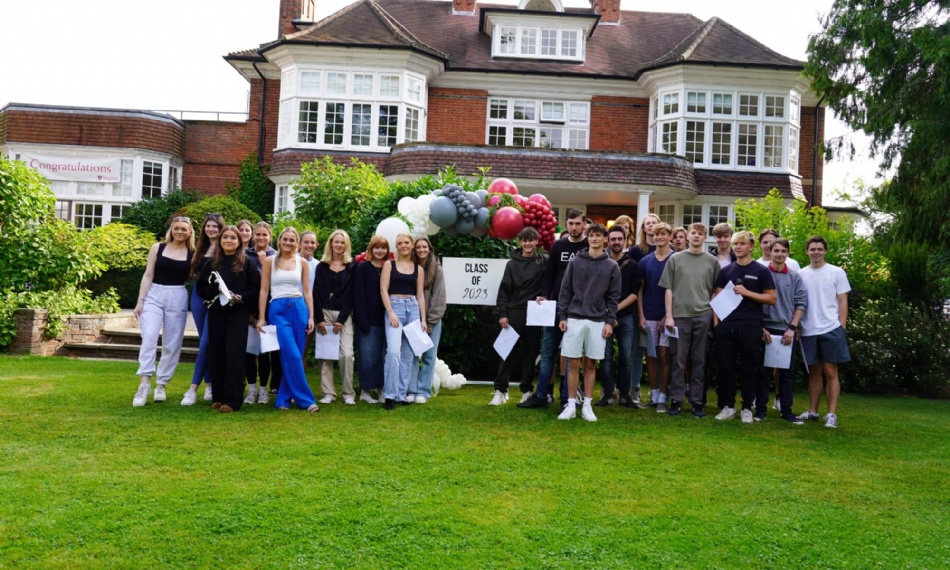 It has been another morning of joy and celebration as staff, Sixth Form students and their families enjoyed a wonderful A Level and BTEC Results Day. These results are the culmination of a two-year journey marked by growth, discovery, and personal development, and the Lingfield College community takes immense pride in celebrating the accomplishments of our students.
Richard Bool, Headmaster of Lingfield College, paid tribute to the hard work of the school's students "Congratulations to the Class of 2023 for achieving a set of really strong results. I feel incredibly proud that in a year of tightened grade boundaries 90% of those heading to university successfully secured their first-choice destination. It has been a real privilege watching this cohort grow and mature into the confident, charismatic individuals that they are today and no doubt they will carry the same determination and enthusiasm to their future endeavours. I would also like to express my gratitude to the teachers who have worked so hard to support the students through their time at Lingfield College".
As a School with a strong emphasis on co-curricular provision and pastoral care, the results underline and reflect the impressive academic outcomes the School has built a reputation for in recent years. Students heading to university have been accepted to a diverse range of courses such as Law, Civil Engineering and Film Production and at some highly regarded institutions such as Oxford, Durham, and Edinburgh. A number of students have achieved places on prestigious apprenticeship programmes including BMW, Ernst Young and Markel Insurance, and one student is heading to the United States after receiving an academic and sports scholarship at Penn State University.
Head of Sixth Form, Alison Folkard expressed her delight at the success of year 13 on receiving their results today. She said, "I am absolutely thrilled with the achievements of the students with nearly a third of grades achieved at A*-A, and I am particularly gratified that so many of them have gained their first choice of university place. Many have also gained prestigious degree apprenticeship placements showing how open Lingfield students are in exploring alternative routes to Higher Education."
She added "They have worked incredibly hard for these A Level and BTEC results and have shown enormous resilience throughout their time in the Sixth Form. These were the first set of formal exams they had sat so they should be feeling especially pleased with their success. I wish them all the very best for the future and look forward to hearing from them as alumni in the years ahead."
Callum's journey at Lingfield began in Year 1 and now culminates in achieving his dream of studying History at Oxford University. With exceptional results of 3 A* grades, Callum attributes his success to the unwavering support of his teachers. Reflecting on his journey, he shared "Lingfield has helped me immeasurably to achieve my goals. I couldn't have done it without so many brilliant teachers encouraging and supporting me."
His mother shared her overwhelming joy, saying "I am ecstatic. We just wanted him to be happy, he has always wanted to pursue a dream of attending Oxford and he has achieved what he set out to. Lingfield has been phenomenal, I could cry, honestly it has been amazing."
Head Student, Jasmin was elated with her grades: A, B & Distinction*. Known for her warmth and dedication among her peers, her leadership role over the past year has focused on nurturing the pastoral aspects of the School. This remarkable effort earned her the prestigious Yeates Pastoral Cup, an accolade bestowed upon a student who has made the most significant impact on the pastoral life of the School. With a promising path ahead in Marketing, Jasmin is currently awaiting the outcome of an exciting apprenticeship interview. Jasmin shared her sentiments, "I love every single teacher. Everyone has been so supportive; they have always made me feel so comfortable and above all happy. I wholeheartedly recommend Lingfield."
On behalf of everyone at Lingfield College, we wish the Class of 2023 every success and happiness as they embark upon their next chapter.
If you would like to learn more about studying at Lingfield College, our Open Morning takes place on Saturday 23rd September and our Sixth Form Information and Options Evening is on Thursday 5th October. To find out more click here.