Lingfield hosts 4th annual MUN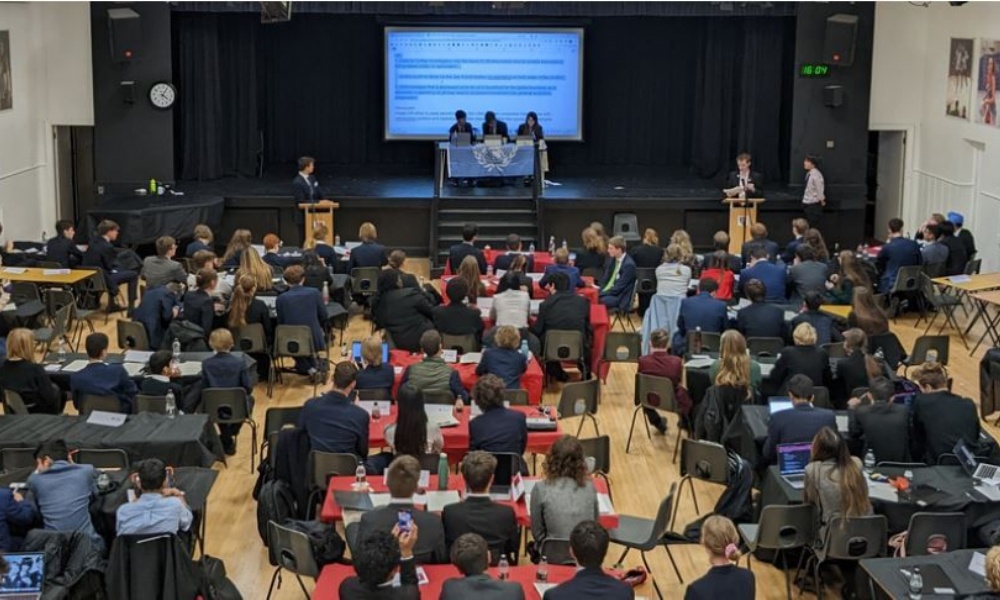 A day of challenging and respectful debate
On Saturday 26th November Lingfield College hosted our 4th Model United Nations Conference.
Since our inaugural event in 2019, Lingfield MUN has gone from strength to strength, this year Mrs. Halling-Brown, Director of MUN, and the LCMUN Secretariat welcomed 11 schools and 150 students for a day of stimulating, challenging and respectful debate encouraging all delegates to fully immerse themselves in the unique MUN experience.
Keynote speaker
The conference was opened by Vicki Prais, a Human Rights Consultant, Lawyer and Mentor. Vicki posed the question 'Where do Univeral Human Rights begin?' She then introduced the idea of global responsibility beginning with the individual. Vicki continued by explaining the role of the United Nations, and the challenges facing the organisation in light of current global conditions, at a time when, as Ban Ki-Moon states 'the World is shifting beneath our feet.'
Her speech was insightful and interesting providing the students with an honest view of the work done by the United Nations. We are very grateful to Vicki for sharing her thoughts with us.
Committee reports
SOCHUM (Social, Humanitarian, Cultural Committee)
Confidently chaired by Matthew and Co-chair Daniel this committee engaged in lively and detailed debate, beginning with the acidification of the Oceans, an issue of great concern to Canada. South Africa had concerns over budget, reiterated by Japan and North Korea, who had hopes of increased funding. The UK delegation believed this was a global issue requiring a coherent, global response.
SOCHUM successfully passed both resolutions, and even had time to debate and vote on a third.
Prize Winners
Highly Commended - Russian Federation, Germany
Distinguished - Ethiopia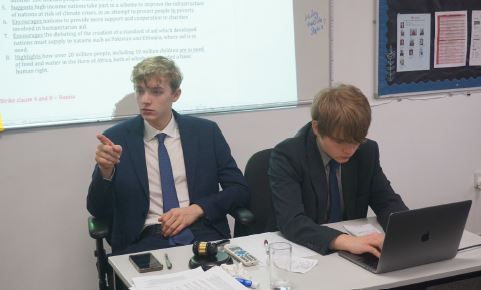 ECOSOC (Economic and Social Council)
1. Eliminating Child Labour
2. Protecting biodiversity in the Tourism Industry

ECOSOC were tackling the difficult issues of Child Labour and protecting biodiversity. Chaired by Cormac and co-chaired by Louis, discussions were stimulating and vigorous, with well-researched points articulately argued by delegates. Russia was keen to increase awareness of the issue related to child labour. Venezuela believed that there should be no sanctions for countries exploiting child labour, but instead these countries should be supported in other ways to end their reliance on such a labour source. UNESCO successfully passed their second resolution.
Prize Winners
Highly Commended - Poland
Distinguished - Russian Federation
UNHCR (The United Nations Refugee Agency)
1. Combating Racism, Xenophobia, and Related Intolerance targeting refugees
2. Food Security in Refugee Camps
UNHCR had some seriously weighty issues to discuss today. Chaired by Christina and Co-Chair, Isabel, the discussion was thoughtful, engaging and provocative. Venezuela was in favour of ending xenophobia, with the USA calling for more accountability. Kenya, Malaysia and Russia were all in agreement that accepting protection of Human Rights was essential. The UK suggested some amendments to the original resolution. UNHCR successfully passed both resolutions.
Prize Winners
Highly Commended - DPRK, Russian Federation
Distinguished - Belarus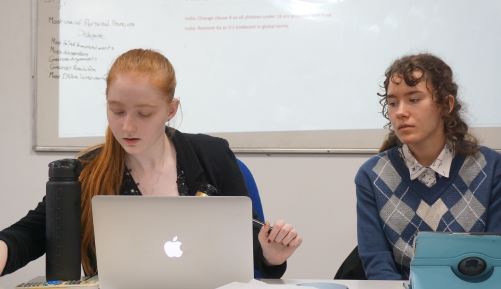 UNESCO (United Nations Educational, Scientific & Cultural Organisation)
1. The Protection of Cultural Property in times of Armed Conflict
2. The question of returning Artefacts to the country of origin
Chaired by Maisie and Co-Chairs Miko and Boe, facilitated an interesting and engaging debate. Delegates were initially a little reserved, but confidence increased as the debates developed, with one delegate even taking on two roles - Poland and Pakistan - and countering their own arguments. Definitely a first for LCMUN!.
France were strongly in favour of Western countries keeping historical artefacts, whereas Poland felt strongly that they should be returned to their country of origin. One resolution was successfully passed.
Prize Winners
Highly Commended - China
Distinguished - Poland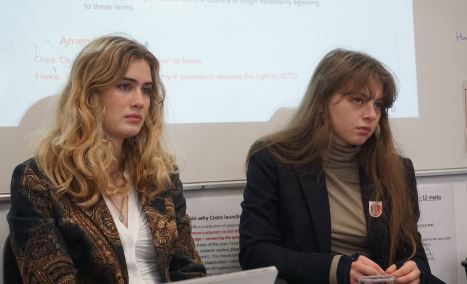 Security Council
1. The question of the evolving situation in Ukraine
2. The question of the militarisation of the South China Sea

Chaired by experienced MUN member and President of the GA, Simreth, and his co-chair Matthew, the Security Council faced some incredibly complex and challenging issues. Discussion was passionate, articulate and well-reasoned.
Three resolutions were passed, which was a fantastic achievement.
Prize Winners
Highly Commended - Russian Federation, Ukraine and Mexico
Distinguished - UK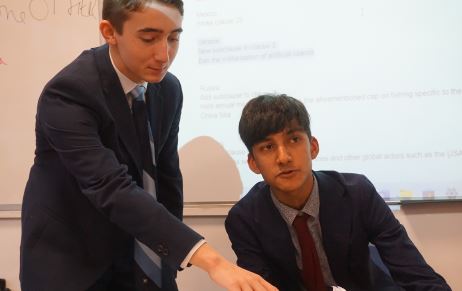 We also welcomed some of the Alumni Secretariat: Harry, Charlie and Daniel. Their continued support of MUN at Lingfield is what makes this club so special - members nurture and support others.
Thank you to all the schools attending for participating with enthusiasm, with maturity and with respect for your fellow delegates. We hope you found the discussion as enjoyable, stimulating and engaging as we did. Without your dedication, time and effort, events like this just cannot happen, so a heartfelt thank you to all delegates and to
your supporters for helping today happen.
Congratulations to the overall prize winners for the day: Best Delegation - Russian Federation (Reigate Grammar).